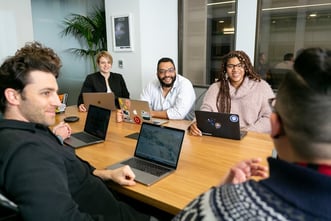 CORPORATE GROUP COACHING SESSIONS WILL…
IMPROVE WORKPLACE MORAL
With learning colleagues' communication styles and building team cohesiveness. Feeling more connected to your team and valued will increase productivity.
PEER LEARNING
Also known as "collective wisdom". You will collaborate and learn from each other which will lead to improved strategic thinking and promoting internal systems.
ACCOUNTABILITY
With yourself, your colleagues, and your coach. You will be guided toward other helpful practices such as mindfulness, resilience, life-mapping, and more to be the leader who respectfully holds your team and yourself accountable.
HOW YOU'LL FEEL…
More confident with increased direction and self-awareness to be a leader in your team and in your life.
Leadership
Emotional intelligence is a key component of effective leadership. In this coaching program, we will use skills such as self-awareness, empathy, and self-regulation, to identify leadership styles, values, and strengths.
Workplace Resilience
Workplace resilience group coaching gives employees tools to better manage stress and promotes a more positive work environment.
Customized
I can work with you to customize a program to fit your company's coaching needs.